Unity USX:
The Unity USX was marketed as a softer, more "flex" friendly carver for skiers who are looking for a ski that is less damp and has more rebound energy. This is done by using bi-axial wrapped fiberglass on each side of the skis maple core to produce a lightweight, dependable and forgiving sandwitch core. Here is a great chance to own a high quality ski from this great Japanese manufacture not normally available here in the USA. A special buyout has allowed up to offer these skis at a ridiculously low price. Yes - the geometry is "old school" and dated and because of that, we feel they make an excellent Mogul ski since a side-cut like what this ski has is exactly what you want in that type of ski.
Don't miss out - many are buying two pairs so you have a back-up pair - remember, our supply is limited on these skis.
Never heard of Ogasaka?
The Ogasaka Ski Company is based out of Nagano, Japan. Ogasaka has been providing handcrafted wood core skis since 1912 and have always been an industry leader bringing forth new technology and designs when it comes to the manufacture of skis.
Although not a common brand outside Japan, Ogasaka skis are unmatched in quality and contain unique features only found in upper end brands.
Ogasaka Skis are hand crafted using Maple from North America that is cured for at least 3 years, so some would say that it takes 3 years to make a pair of skis just for you. The skis are perfectly matched and material is paired from the beginning. Ogasaka goes so far as to making sure that the right and left skis are made out of the same part of the tree, thereby eliminating the disparity of flex characteristics that might otherwise arise. All skis may look the same, but inside the ski is where you will find the difference. With this time-intensive method, production capacity decreases, but the quality level remains high. Ogasaka Ski believes in the quality of the product over quantity. All of their Skis are ready to ski out of the package, no tune-ups are needed.
Best known for racing and carving models, Ogasaka Skis always test at the upper end of the pack for handling and snow feel.

Maple Wood Core: Maple is the highest quality wood for a lively energetic feel & long life and is a very expensive high quality hard wood, thus the reason it's used to build floors and furniture in your house that lasts a lifetime. Maple absorbs impact, and has a ton of energy for a very ski feel and long life. Maple laminates the entire length of the core, plus 100% under your foot for unprecedented energy, durability & binding screw retention.
Craftsmanship is at the heart of the Ogasaka brand with attention to detail and quality that is superior to mass-produced skis. A good example is how the wood cores are produced; All wood is purchased from cold climates to get strong, dense wood. For Example, green Canadian maple is slowly cured for 3 years until it is bone dry without stress cracks. Then the raw wood cores are matched so the left and right skis are made from the same part of the tree ensuring that grain quality and density is matched. Finally, a time-intensive low-temperature, slow press method pops out a ski that is free of internal stress and flaws.
ABS Sidewall: Is common on racing skis as it transmits pressure to the edges well. ABS sidewalls make skis torsionally stiffer, have better edge grip, and are more resistant to impacts.
Sandwich Construction: A special FRP material inserted into the top and bottom of the wood core. This FFU Sandwich construction method also has all the materials laminated together to prevent internal distortion when the ski is flexed. The use of fiberglass layers without the addition of metal, allows the ski to have a great rebound and a more lively flex.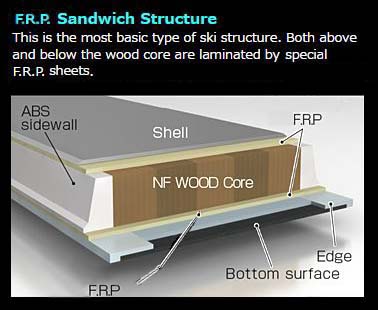 Shoppers: You may mount any type of binding from any manufacture on this ski (with 62mm or wider brakes).
Shipping: Shopper pays the actual cost based on the shipping method selected at check out. The shipping price can be calculated by adding the item/items into our shopping cart and inserting your zip code on the shopping cart screen.
Returns: All returned Items must be shipped back to us at the buyer expense within 14 day of receipt. The product must still be in the original manufactures wrappers and box along with being repackaged in the same box that it was shipped to you in. Your refund will be given as Money back less a 20% restocking charge.